Holiday Films & Nimble Content director, Ryan Gibb is building a well-earned reputation for creating some of the freshest, most dynamic visuals around today. His latest work for New Balance and Havas Worldwide Canada is a prime example. In New Training, Gibb dramatizes the titanic struggle between 'the gym' and Montreal Canadiens' captain, Max Pacioretty. Shooting A-level athletes often comes with it's own challenges like limited time or restricted access. We asked Gibb to let us in for a peek behind the scenes.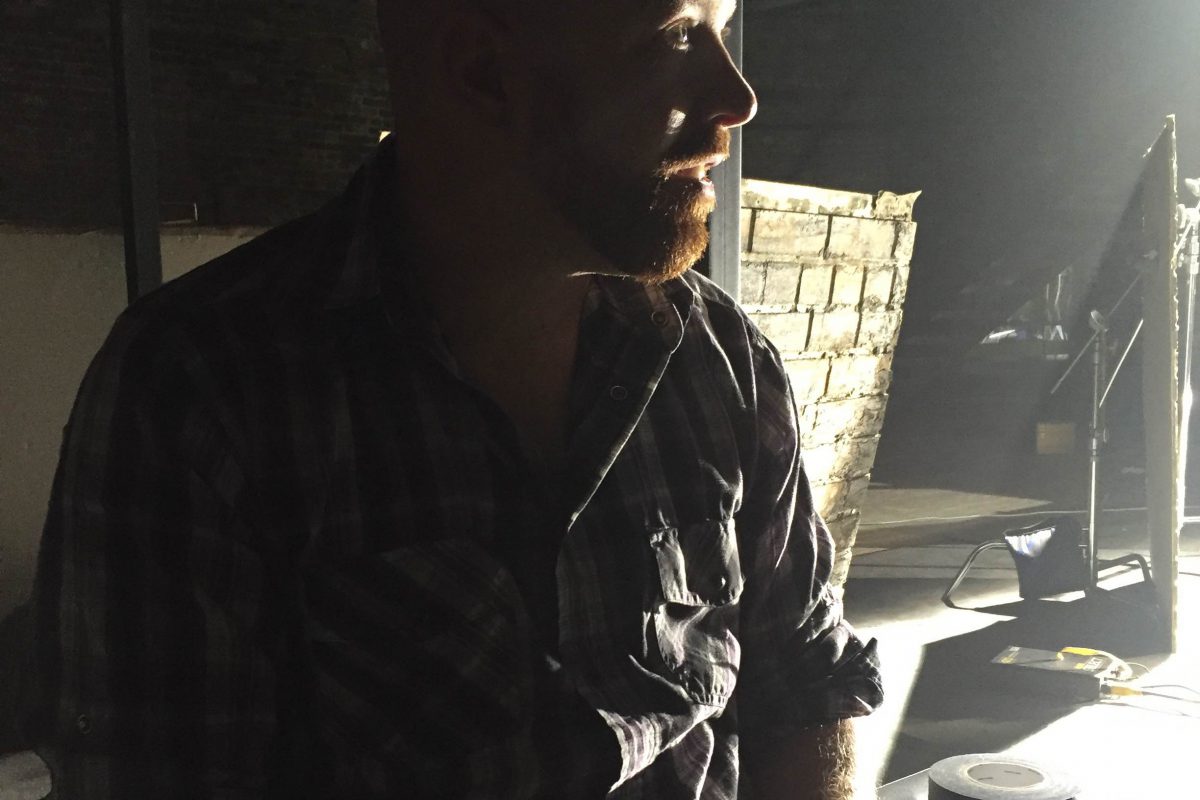 HF: There are a lot of 'workout' films out there, what was your approach to set this one apart?
GIBB: This spot is all about perspective, in particular the gym's perspective and the adversarial relationship between the gym and the athlete. So many spots in the sports genre are very stylized and I knew it was going to be a challenge to come at it with a fresh approach. The a-ha moment for me was two parts, if I was to take the gym's perspective what would that look like, and second, what perspectives and angles haven't been seen in this genre before? Shooting from the gym's perspective, I felt all the equipment had to have a larger than life feel to make the challenge seem imposing. The spot starts with the gym taunting Max and I knew the visuals had to match the gym's declaration of strength. As I started to visualize how I would accomplish this, it led me into the second part, what new perspectives and angles could I incorporate into the spot? So many of these drills have been shot a thousand ways and that often it makes it hard to be new and different but at the same time it gives you an amazing foundation to build off of and the ability to take what works, shift the paradigm, and create something that is yours. The challenge I gave myself was to see if I could figure out a way to attach the camera to the equipment. From there I would build out the shots and with a lot of caffeine I was eventually able to connect the dots.
HF: How was Max to work with?
GIBB: Max was amazing. He is so genuine and humble. The day before the shoot, he had an away game in Washington DC and didn't get home until 3am. He showed up at the shoot on time and ready to work. He was very easy to work with and open to trying some of my crazy ideas. One of the shots I really wanted to capture was a drip of sweat coming off this forehead as the camera follows the drip till it hits the ground. The nature of trying to capture a shot like this is a lot of luck and repetition. Max was a good sport and let me spray him in the face numerous times with a glycerin/water mixture. Thankfully it paid off and we got the shot but it was a bit stressful, as I didn't want to put Max through too much torture.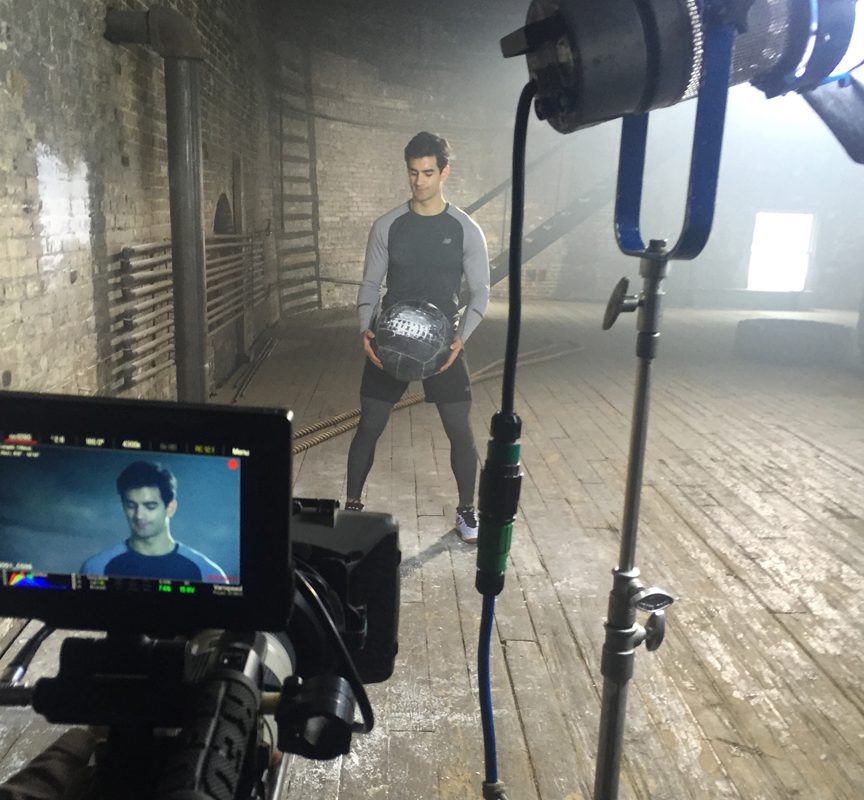 HF: What is the key moment in making this video?
GIBB: I don't know if there is one big key moment but more of a series of little victories. In the beginning there we a few constraints and challenges we had to work through, slowly but surely we were able to solve each challenge and in the end create something that I am really proud of. One of the first victories we had was the location. We found a great location that was so full of texture and personality it helped us set a great tone for the rest of the shoot. Another victory we had was in the edit. We had it scripted a little different on how we were going to get into the action part of the edit and upon editing it that way, it was good but I felt it could be better. I found this music track by Poter Elvinger and edited the kettlebell sequence to it and knew that we had found the tone and a great way to pull the audience into the action.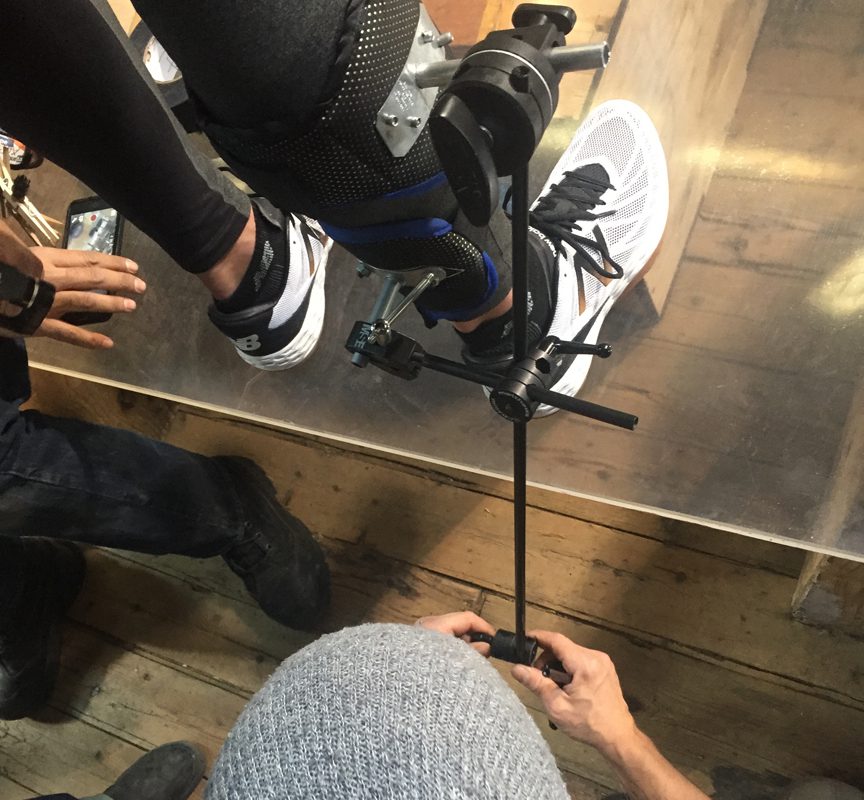 HF: Without giving away any of your secrets, what was your approach to the inventive nature of the dynamic camera work?
GIBB: When it comes to this type of shooting it is very experimental. There were a lot of shots on paper that seemed like they would be amazing and then for one reason or the other didn't pan out. The key is being able to adapt and roll with what is working. I am the type of person that likes to shoot as much practically as I can. I'm sure there were a few shoots that would have been easier to create in 3D but I love the organic elements and lucky accidents that you would miss if you did it in post. For me, one of the things I am constantly striving for is to get the camera as close to the action as possible. I think that's when you capture those little nuances and unseen moments that go unnoticed. Often though, it's something that takes a lot of repetition and tweaking, rarely do you get the shot on the first try. Just about every shot in the edit was done practically and then a lot of work in After Effects to marry them together and to make it all flow. This is a big part of what makes an edit like this work. You have to be 3 steps ahead while you are shooting. You need to think how each shot in the edit is graphically going to be cut together, and how you can use camera movement to lead the audience's eye from one shot to the next. You are constantly looking for natural wipes, shapes, and movements that will juxtapose against each other.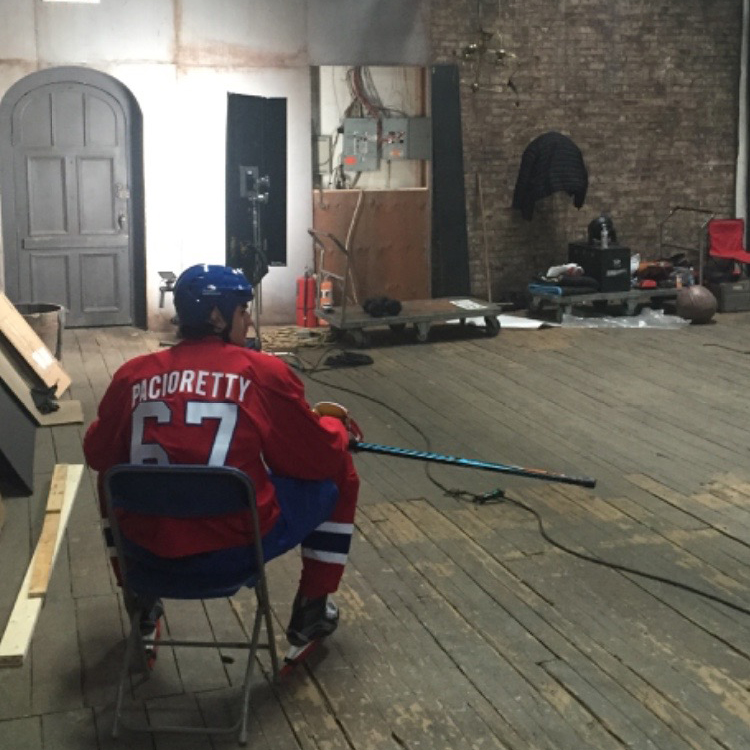 HF: As a former athlete yourself (mountain biker) do you have any special techniques when it comes to working with celebrities/athletes?
GIBB: Oh man, it's been many years since I was a professional athlete, it seems like another lifetime ago. I don't know if I would call them special techniques. I think the biggest advantage to having an athletic background is that it helps me speak their language, I've developed a sense of movement, how the body moves. I can relate to the pressures and anxieties that come with being an athlete and this in turn, helps me marry function with art.